Need to Sell Your Home Fast for any Reason?
...then we can give you a fair, ALL Cash offer Plus we'll give you our NEW FREE report
If you need to sell your home fast for any reason then we can probably help. We buy homes of all sizes across the county and can make you a fair offer right now. Simply fill out your info on this page and we can do a quick, no-fuss analysis and give you an offer.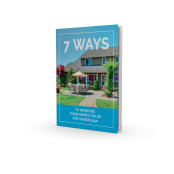 Get Your Offer NOW
Simply let us know how to contact you and you'll also get your FREE copy of our brand new report, "7 Ways to Increase Your Home's Value for Under $150"